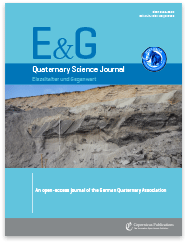 Chief editor: Christopher Lüthgens
E&G Quaternary Science Journal (EGQSJ) is an interdisciplinary open-access journal, which publishes peer-reviewed articles and express reports, as well as thesis abstracts related to Quaternary geology, paleo-environments, paleo-ecology, soil science, paleo-climatology, geomorphology, geochronology, archaeology, geoarchaeology, and now also encompassing methodological advances and aspects of the societal relevance of Quaternary research. EGQSJ is a non-profit, community-based effort: It is run by Quaternary scientists, financed by Quaternary scientists, and supporting Quaternary scientists, because any revenue generated is only used to support publications in the journal.
EGQSJ was established under the name "Eiszeitalter & Gegenwart" (i.e. "ice age and present" in German) in 1951 and has since then covered the broad range of Quaternary research. By linking insights from the past (i.e. the ice age) with the present, our publications provide an interdisciplinary understanding and knowledge that becomes even more important in the context of the current challenges of global climate change. Please take your chance to join us in shaping the future of the journal by considering EGQSJ as a reputable, worthwhile alternative for publication of scientific papers, innovative express reports, and thesis abstracts dealing with Quaternary research.
Recent articles




Notice on the current situation in Ukraine
To show our support for Ukraine, all fees for papers from authors (first or corresponding authors) affiliated to Ukrainian institutions are automatically waived, regardless if these papers are co-authored by scientists affiliated to Russian and/or Belarusian institutions. The only exception will be if the corresponding author or first contact (contractual partner of Copernicus) are from a Russian and/or Belarusian institution, in that case the APCs are not waived.
In accordance with current European restrictions, Copernicus Publications does not step into business relations with and issue APC-invoices (articles processing charges) to Russian and Belarusian institutions. The peer-review process and scientific exchange of our journals including preprint posting is not affected. However, these restrictions require that the first contact (contractual partner of Copernicus) has an affiliation and invoice address outside Russia or Belarus.